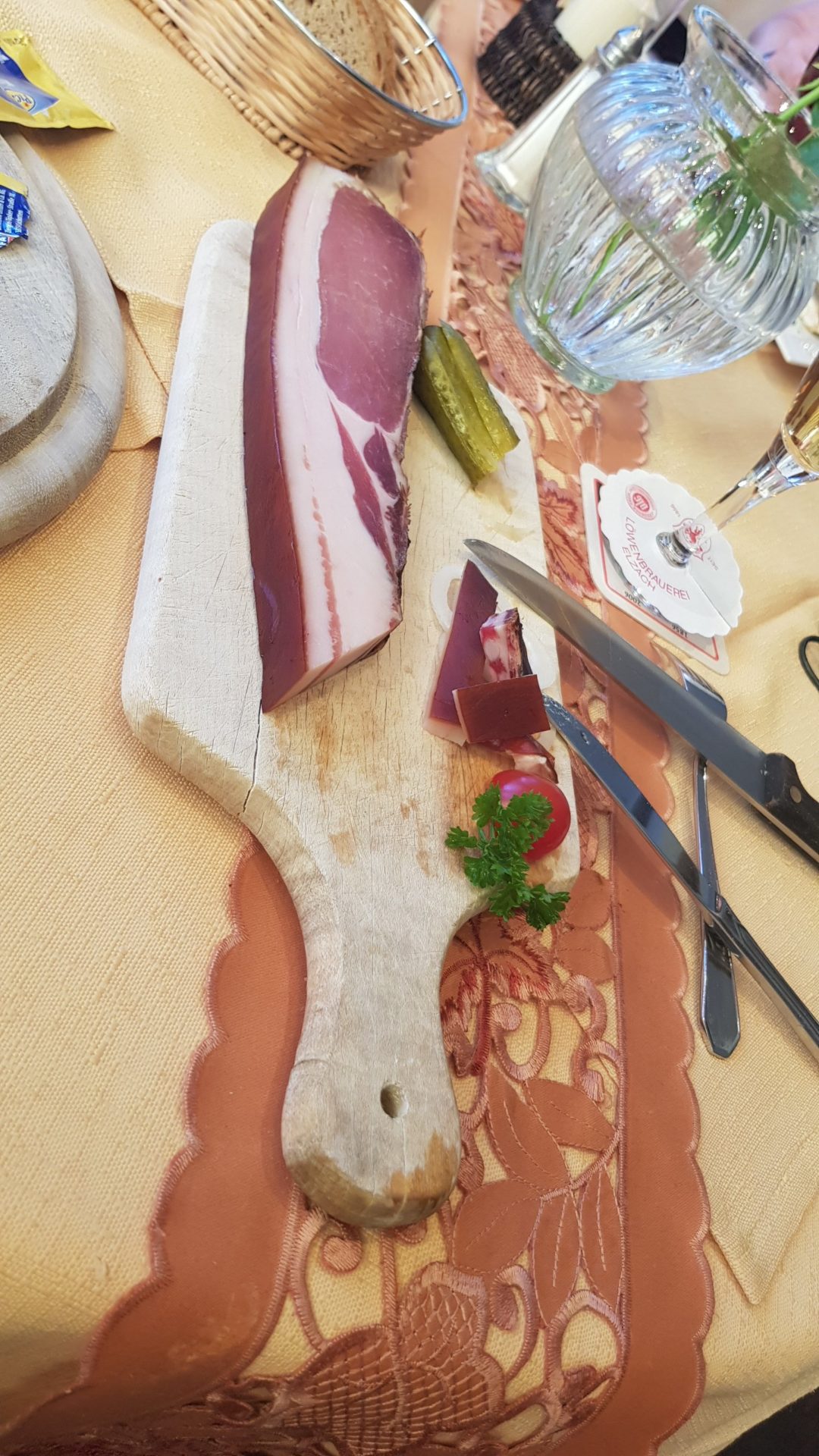 Day 7 Back on the bike.
Day 7 Back on the bike.
Thankfully, yesterday's walk had not brought the announced showers, even though the afternoon greeted us with cloud-shrouded skies.
The drop in temperature that was announced has actually arrived this morning.
Despite almost bright blue sky, it is felt only 10 degrees. It's supposed to be 18 degrees at noon.
With the hope that this will happen, we are on the way.
But not without waiting for the departure of the colleagues who had lodged the night before for one night and who are now on their way home with machines that were obviously older than themselves.
Today we are heading north again. The night before, we realized that after a few days it would be increasingly difficult to find a route that leads completely through unknown terrain. We therefore accept the fact that we already know one or the other point.
First we drive via Haslach to Biberach. From there we follow the route to Nordrach, where we make the first short break. On the one hand, Rolf indulges in family memories, on the other hand, the low temperatures show their effect. The fingers are clammy and more reminiscent of a motorcycle day in March, as a day in the summer.
But we can not be stopped and drive with closed ventilation openings in the motorbike gear over Vorderberg, Bad Griesbach, Bad Rippoldsau and Freudenstadt to Baiersbronn, where both time and stomach clearly request a rest with at least one coffee. For me there is also a pretzel on top.
The roads up to here were small, curvy and very fun.
After the necessary coffee, we continue via Ottenhöfen to Oppenau.
Near Oppenau we stop to see the waterfalls in Allerheiligen, a former monastery complex.
Dreadful memories of the Triberg waterfalls are entering my brain. But the way this time is much more relaxed and here I leave the last meters in elevation to the two climbers of Derne.
Again, they come deranged and a bit out of breath.
Nothing learned! But, both of them assure me, it would have been worthwhile.
So back to the parking lot and half way, oh well, a restaurant.
So, do not despair and stop for a cold drink and a soup.
Afterwards energetically strengthened, because of the lack of altitude, I was only entitled to a latte, back to the parking lot and from there via Oberkirch to Offenburg.
We try to circle Offenburg, but due to the Friday afternoon we are much slower.
Fortunately, the traffic behind Offenburg is much less and over Gengenbach we come back to Biberach and finish our trip as we started.
As mentioned above, at some point you go roads twice.
We drive past our hotel to buy in Elzach again at Netto some water, wine and other necessities and are back at 16:45 at the destination.
And now, to the dinner.
I've always found something tasty in the past few days, also in terms of budget, that did not cut a big hole in the pocket, yet provided enough calories to last until breakfast.
And so I will find this evening something on the Vesper-menue.
Here is the explanation of Vesper according to Wikipedia:
"in the Alemannic language area also the snack, a snack or a dinner"
(Attention: snack !!)
So when I order a Black Forest bacon with bread, I tend to give it a tasty but sufficient trifle.
What the friendly service brings then, however, looks more like a spit of the 12 apostles. The picture below shows only two-thirds of the whole work of art. So you can guess the original size. Discreetly framed by onions and a pickled cucumber, accompanied by half a loaf of bread.
I take a deep breath, the cutlery out of the napkin and both hands.
With the help of Rolf and Gabi, who like to try, I actually manage to become master of the ham of this pig, which obviously stems in its size from the genetically modified breed "Arnold Schwarzenegger".
But I have to fight!
Tomorrow I'm more careful, I promise.
Total distance:
213.68 km
Max elevation:
0 m
Min elevation:
0 m
Total climbing:
0 m
Total descent:
0 m
Download file:
20180622-track.gpx