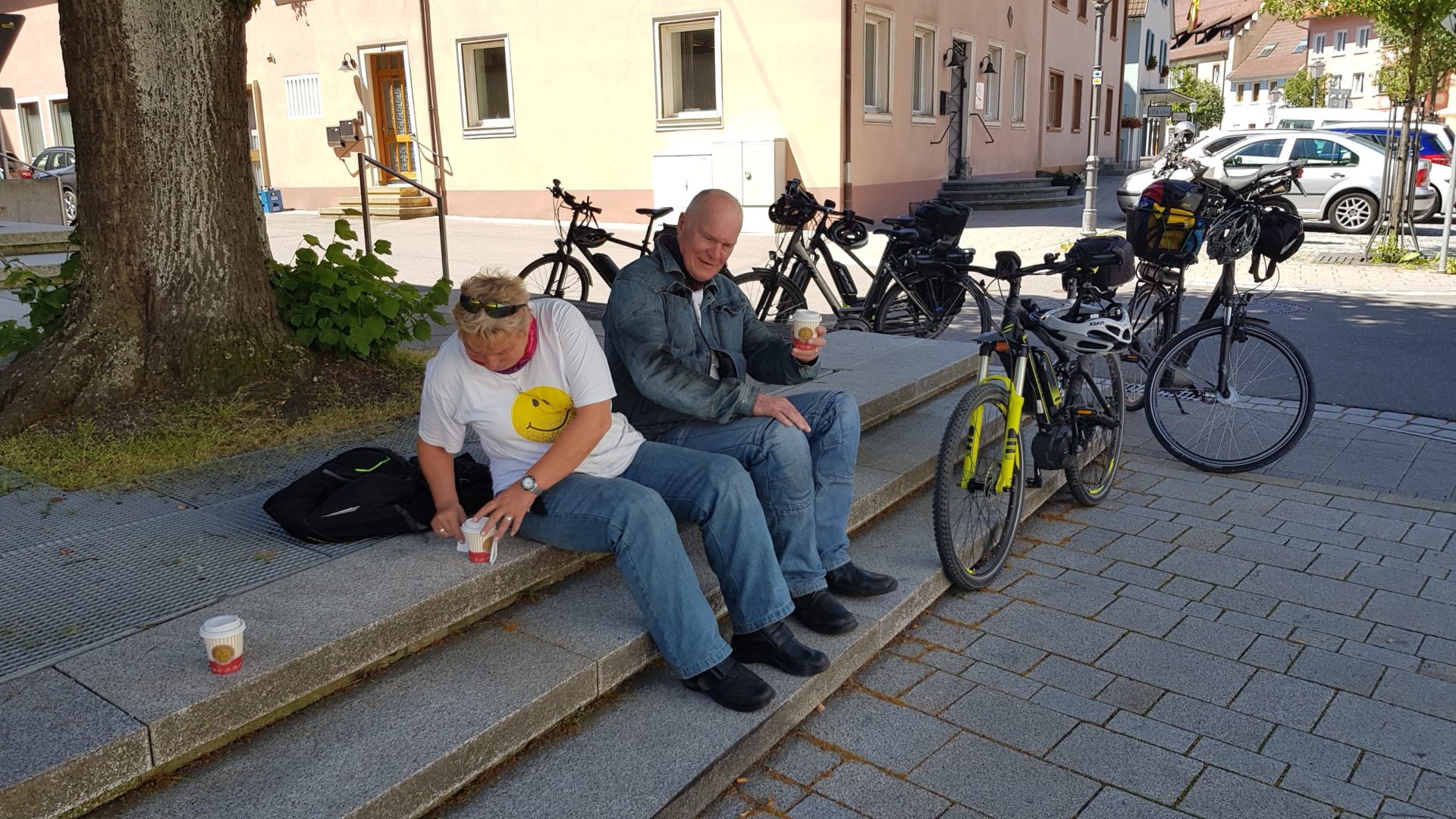 Day 5 Itś going to be hot.
Day 5 Itś going to be hot.
Not that I'm misunderstood now.
I'm talking about the temperatures. So far, we have had quite pleasant travel weather with 24 degrees, so today it should be much hotter, namely to 31 degrees.
So yesterday we planned a shorter tour, just 170km.
Thank God. Already in the morning at breakfast, or actually at the obligatory cigarette after that, it strikes me that it is certainly a hot day today. The sun burns mercilessly at about 9 o'clock from a cloudless sky.
Nevertheless, we make good cheer on the way, after Rolf and Gabi stop by the in-house butcher shop and secure something to eat for tonight, since the hotel is closed. Will not be so bad.
First a short stop at the inn, where we had actually booked, to pay our bill. No one there, rest day. So tomorrow a new attempt.
Off to the road, the temperatures are still bearable.
And so it goes to Triberg, where we are immediately caught by a roadblock. We follow the diversion instructions and have to drive about 25km further south direction and then back north again to get back on our route. That would have been easier in the Ruhr area, but not so nice.
At half past twelve we leave the route to make a first break in Bräunlingen.
Did I mention the temperatures already?
Well, they are now so high that despite the lack of faith, we look at the local church from the inside and enjoy not only the construction but also the much more pleasant temperatures.
There is also a coffee to go and we discover in the bakery a good-looking "almond nut wholemeal bread", which we take with us for the evening as an addition to the morning bought sausage. To say it in advance, it tastes the way it looks.
Continue south-east to Blumberg, where we are forced to make an unplanned stop at the Sauschwänzlebahn station.
On the one hand, because it offers itself as a "vantage point", on the other hand, because I drove in view of the 30 degrees with a slightly open jacket and managed to catch a bumblebee under the jacket and the T-shirt, which now announces her displeasure about this deprivation of liberty with several stitches (or are they bites).
A bit painful, but since I am actually allergy free, not very tragic.
So on, now heading north-west. Blumberg was the southernmost point of our tour.
It goes back over Donaueschingen, Kirchdorf, once again past Villingen (this time on the eastern side) to Niedereschbach. Shortly behind Niedereschbach we stop. We still need some cold drinks. Meanwhile, the temperatures are uncomfortable.
We stop at a nice bistro, order cold drinks and notice that there are also nice little things for the interior decoration. Nice mix.
Gabi is so excited that she immediately wants to assemble a third pannier to go shopping.
But we continue with only 2 panniers on the way grab in Gutach still a bottle of wine and other trifles at Norma and drive the last few kilometers to Oberprechtal and are glad to have arrived, because of … s.a.
Since we now have some time, there is (exceptionally) a small tour of the village with a small stopover (1 large beer and coffee for everyone) in the restaurant "Zum Hirschen" before returning to the hotel, where we are at 19 clock for dinner on the balcony of the double room.
Sausage, wine and bread make a truly tasty mix ………
Tomorrow we take a day off and explore Freiburg on foot.
In addition then tomorrow more ……..
Total distance:
197.25 km
Max elevation:
0 m
Min elevation:
0 m
Total climbing:
0 m
Total descent:
0 m
Download file:
20180620-track.gpx