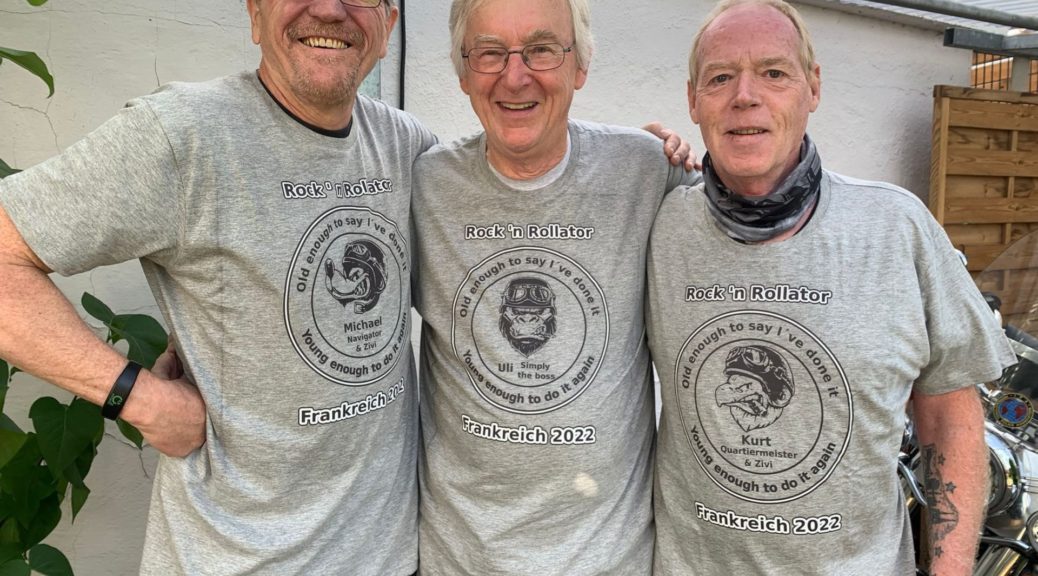 Day 01 or John's cross, never heard of …..
Day 01 or John's cross, never heard of …..
But I'll start at the beginning, so for me actually more with day 00, which is appropriate, since the journey from Oer-Erkenschwick to Niederkassel turned out to be a tough, molasse-like undertaking. Temporarily erasing the sentence "Anyone who lives in the Ruhrpott area loves it everywhere" from memory, I actually started from Oer-Erkenschwick via federal roads towards the "Bergisches Land" and was able to discover "tourist gems" such as Recklinghausen, Castrop-Rauxel and last but not least Bochum and Witten "walking through" congested lanes, motorcycle technically.

Later in the afternoon, however, after a phone call with Uli, I was drawn to the Autobahn. "It can't get any worse," I thought to myself, but that was absolutely wrong. Leverkusen and Cologne turned out to be cathedral construction areas with traffic jams all around. More than stop-and-go was not possible until just before Niederkassel. But okay, even 30 minutes with the naked but on the hot stove will eventually pass and Uli and his better half (I'm sorry, Uli, but maybe Verena will read this :-)) tried their best to soften the bad impression of the streets with a delicious dinner.
And they succeeded.
But now about today.
The camp bed that had been made available to me did its job excellently and in the morning I "crawl" towards the bathroom and after successfully straightening my spine upright towards the breakfast table, which is richly set. Strengthening is important, we, so Kurt and I don't quite know what to expect today. "The boss leads the pack". I'm curious.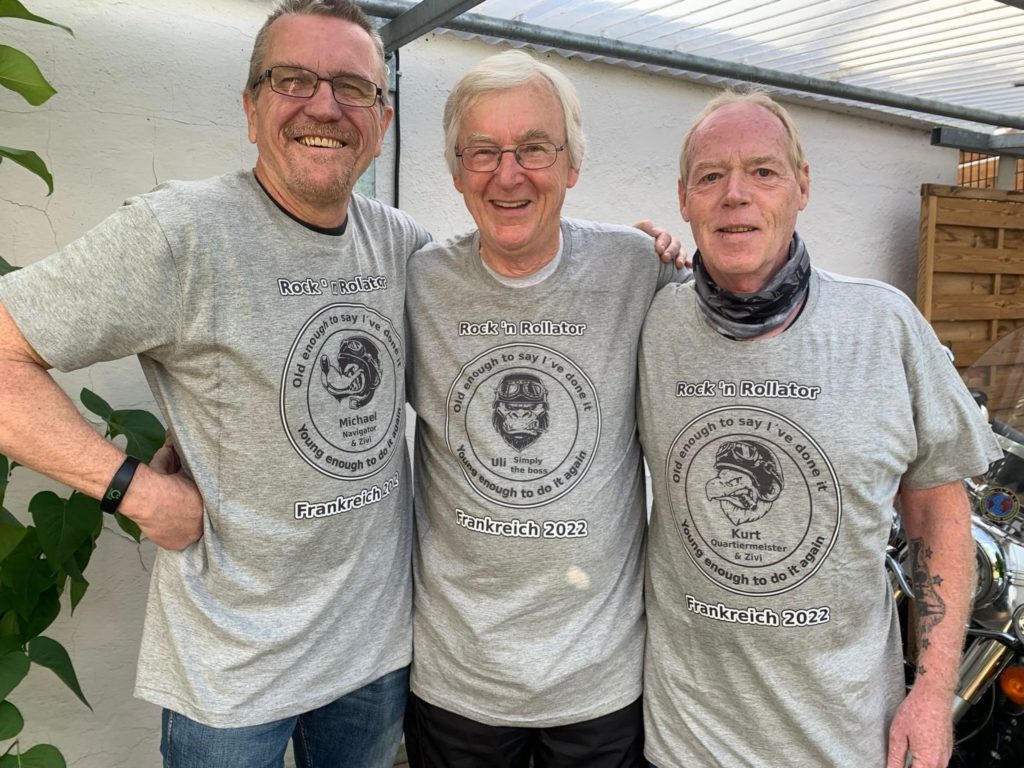 Well, actually we can start. To be on the safe side, I had a shirt printed for all participants so that no one gets lost in large crowds.
True to the slogan from "The Life of Brian": "Follow the bottle" in this case "Follow the shirt", which, by the way, is colour-matched to the hair color of the participants…….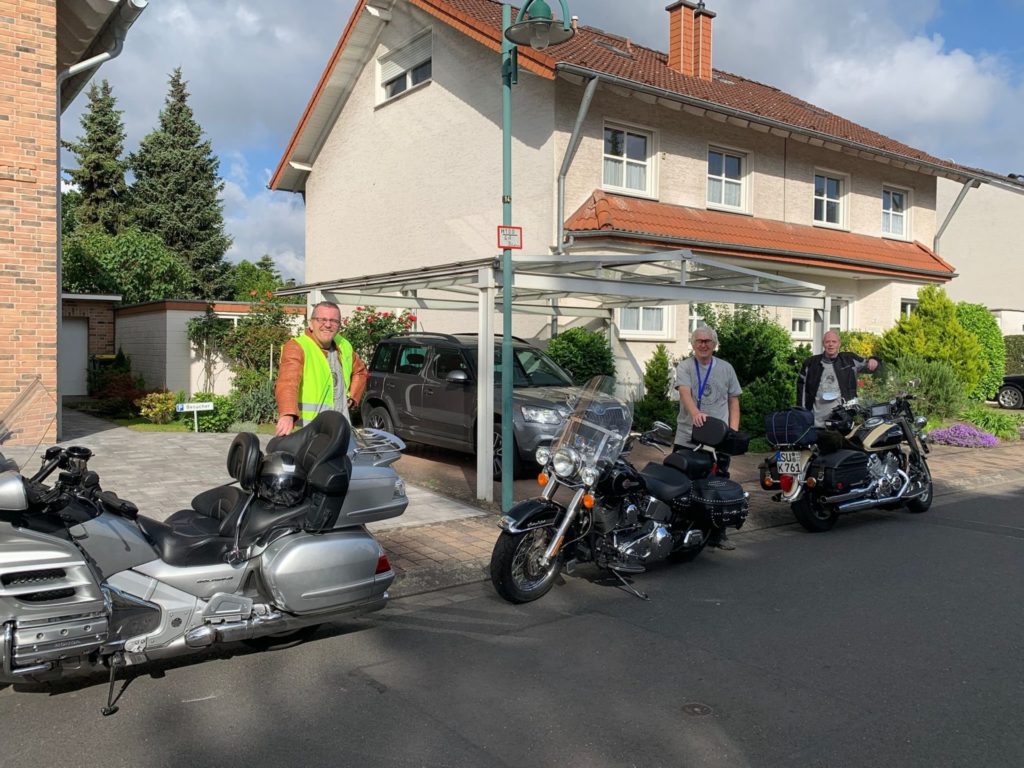 The departure is quite relaxed. Nobody has forgotten anything (that's what we think …) and everything is stowed away safely. Verena briefly takes a picture of the "overall appearance" in order to compare it with the number and appearance of those returning home.
Not that we pick someone up on the way and bring 'em home ……
In Cochem there is the first longer break, at least for the only smoker among us. We two non-smokers share 'em gladly.
It's only been a few months since I stopped "needing" a cigarette break. So I can easily understand that.
Uli tells frankly in a cheerful atmosphere, that he obviously has more than one property. And so here is a photographic evidence of the lord of the castle (front in black and white), with his castle (back in grey-brown).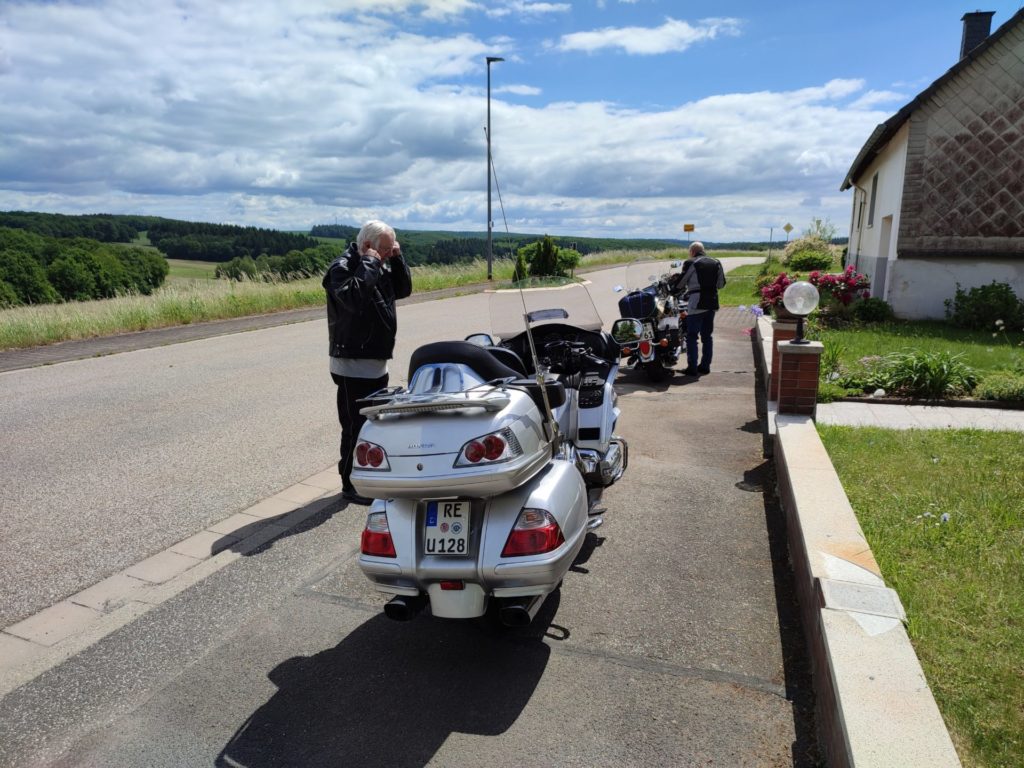 On the road, a short stop has to be made every now and then. Some are tormented by the lack of nicotine, others by the lack of medication for urinary urgency (Granufink) ……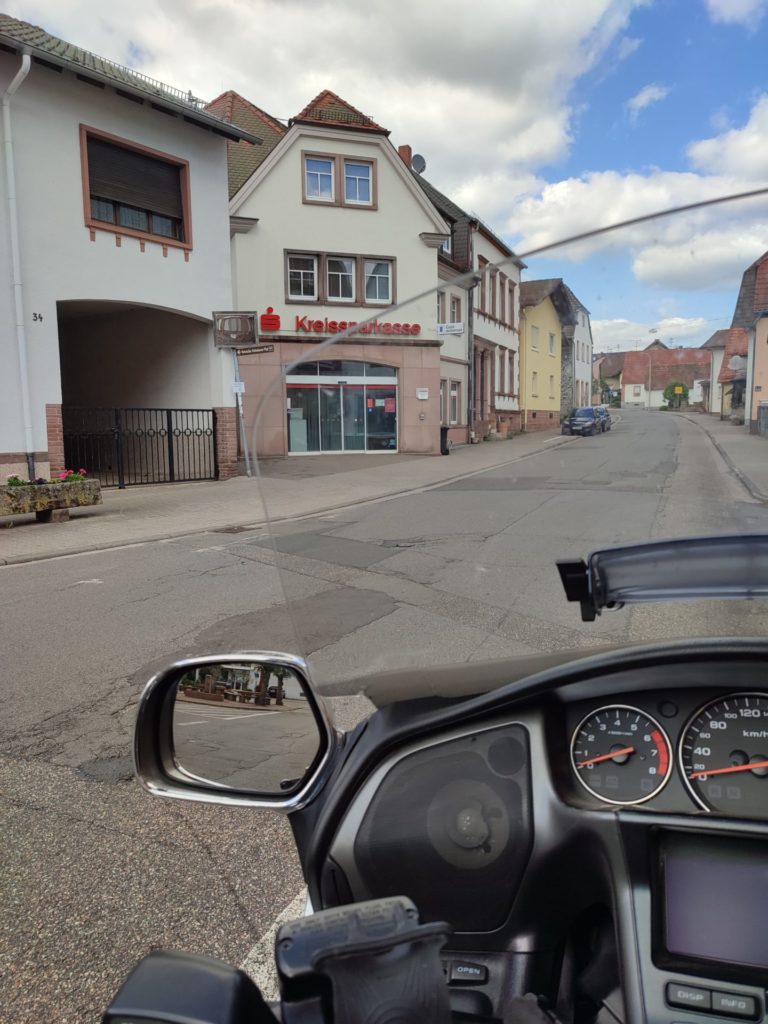 Actually, we were already at the hotel to check in, but then had to go back to Trippstadt on short notice because the hotel rooms had to be paid in cash. Apparently there were problems with the payment terminals nationwide and they hosts didn't want to rely on a bank transfer by unknown bikers. So, 5km to the financial gas station and 5km back……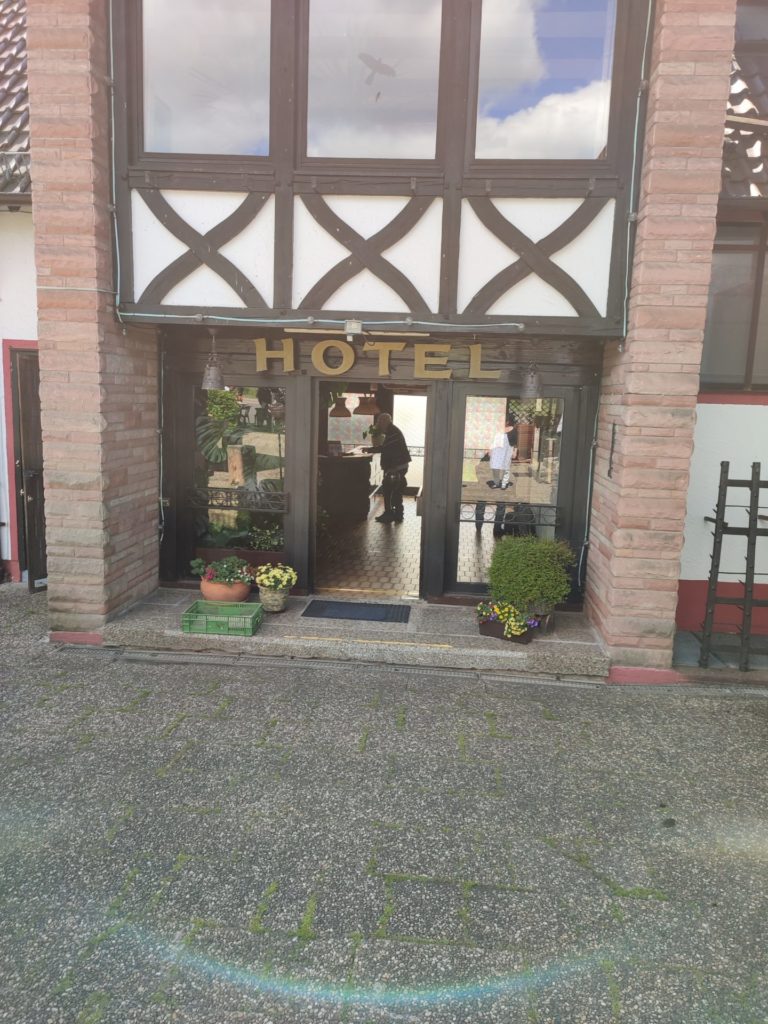 But at some point everything works out and we can get to our rooms ……..
… but that doesn't stop the very brave ones from discussing the day just a fraction of a second later with route discussions in their heads and coffee and cake on the table (already "inhaled", so no longer visible) but still "in colours"…….
Before I get to the last picture, of course a summary of the day.
Nobody is back ……
whoever reads my block more often knows what I mean.
So everything worked out. Uli did an excellent job of being the "leader" at the front and we "caregiver" followed willingly. However, the weather is always dry, the streets are "moody lively", so we got the full nine yards.
And now, to the hotel……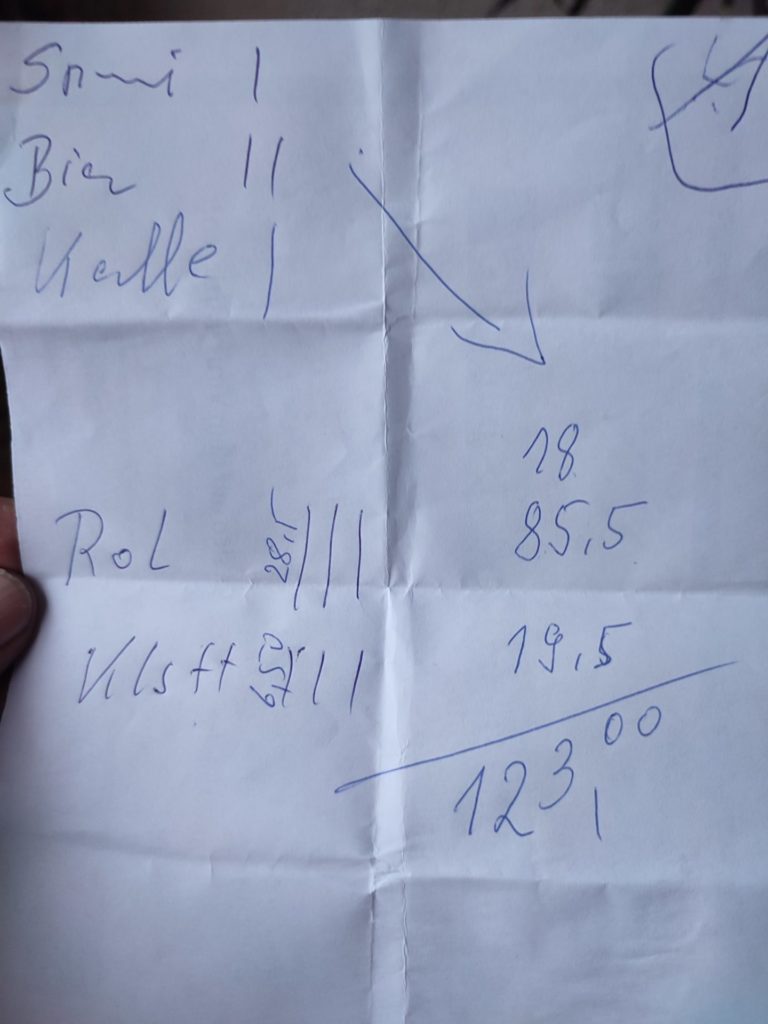 This is what a bill for a dinner for 3 people looks like at the Johanniskreuz.
If you are now wondering, at 123€, the gentlemen have let it bang, far from it. We succumb to the home cooking "beef roulade with dumplings". The roulade just below the canteen size, the dumplings gigantic and in pairs. Can be found on the "invoice" under Rol, €28.50.
Under there, barely legible, the salad. Big and tasty but not included in the above price and at €6.50 not unbeatably cheap either. Most restaurants include a salad in the price of the main course, but not here. So food together 35 €. There is also something nice you can get in a steakhouse in my area…….
The drinks add up to €18 for 3 beers and a coffee. And of course the whole sum again in cash… because only cash is real.
The breakfast we are waiting for costs another €17.50 on top of the hotel price, which makes it overall somewhere in the range of €90-95 for a single room.
I think I'll wait until breakfast and get back to you this evening with an overall impression.
With that in mind, stay tuned……